Apartments in Zakopane
- Best price guarantee
Rent your apartment on Visitzakopane.pl
We are experts in our profession, a leader in short-term rentals on the Zakopane market. We have received over 40,000 satisfied guests from Poland and abroad. We are distinguished by professionalism and high quality of service. We approach each one individually, thanks to which over 100 owners of apartments have already trusted us.
Find out more and join us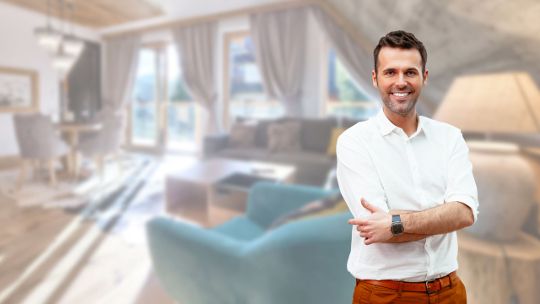 Are you the owner of the apartment?
Join us
Visitzakopane website - See a partaments in Zakopane for you!
In Zakopane, you can find accommodation in the mountains , lodging, room in a guest house, hotel or residence. We specialize in renting apartments. We want your stay in Zakopane to be extremely successful . In our apartments you will feel at home. The apartments are carefully selected in terms of location, equipment and architecture. Apartments in highlander style that we recommend will be fully equipped just like your apartment. We are sure that our experience gained during stays in rooms, flats, apartments, hotels, dormitories around the world will be reflected in satisfying your needs. We will be grateful for your tips and your opinions, may you come back to Zakopane as often as possible! Do you need an apartment? Zakopane is a place where you can find accommodation, apartments villa apartments, cottages, accommodation, guest room, hotel or residence and . We specialize in renting apartments. In our apartments you will feel at home. Apartments in Zakopane are carefully selected in terms of location, equipment and architecture. The apartments that we recommend will be fully equipped just like your apartment.
Apartments in Zakopane - excellent location
Luxury accommodation in the heart of Zakopane is a guarantee of comfortable rest, but also access to various attractions. The Krupówki area, i.e. the main, representative street of the city, is a real resource for the best cafes, restaurants and shops. If you are looking for a moment of relaxation at the foot of the Tatra peaks, a wide range of SPA facilities, swimming pools, as well as many attractions for children, including a popular carriage ride , are nearby and close to the center of Zakopane. Apartments in the very center of Zakopane are also an opportunity to easily reach the most beautiful tourist spots that surround the town, i.e. museums, monuments of Tatra architecture, ski jump and many others.
Do you choose Zakopane? Apartments near the most beautiful mountain valleys
Apartments in Zakopane are also an opportunity to rest surrounded by the most beautiful nature. Our facilities are very close to the popular valleys: Chochołowska, Kościeliska, Strążyska, Mała Łąka, Biała, Bystra, Olczyska, Gąsiennicowa, Rybi Potok, Pięć Stawów and many others offered by the Tatra Mountains. Apartments in the Tatras are a great offer for both summer and winter holidays. We organize skiing lessons, snowboarding, paragliding, nordicwalking, quad biking, snowmobile riding, ski-touring, cross-country skiing, mountaing-biking, as well as family cycling trips. Additionally, we can help you rent specialized sports equipment.
With Visitzakopane you will make a good choice!
Here you will find everything you need! On visitzakopane.pl you will find carefully selected apartments in Zakopane. Thanks to the search engine, it is enough to enter the date of the planned arrival, and then you will see a room or accommodation in the mountains available on this date. To precisely define your preferences, you can use advanced filters, among others Prices, number of persons, type of accommodation, apartment equipment (air conditioning, garage, terrace, balcony, SPA). For the sake of the elderly and the disabled, we have also marked the elevator in the building, and for lovers of pets, the option to choose accommodation in which pets are welcome will certainly be an advantage. All our apartments have a kitchenette and an electric kettle. The presentations of the apartments also clearly contain information about the availability of wifi. What's more, each of the offers has a detailed description - here you can check whether the facility has a playground for children or a mountain view. The photo gallery will present the apartments, and in some cases there is even the possibility of taking a virtual walk. Thanks to this, you can perfectly assess the attractiveness of the facility and decide on the best accommodation! We also encourage you to take advantage of our special 'offers of the day'! These are apartments that can be booked at particularly attractive prices.
Apartments like at home ? Zakopane is a good choice!
One of the advantages of our offer is its large variety. It is thanks to her that you will find interesting apartments . Zakopane is the place beautiful and perfect for the needs of families with children, but also a city with excellent location I of accommodation bare , perfect for a romantic getaway for two or a trip with friends or business trip. We make every effort to ensure that the presented offer includes only facilities of the highest quality standard. Thanks to this, you will feel at home in our apartments!
Tatry Apartments - why is it worth it?
Apartments in Zakopane, apart from a great location, guarantee relaxation in the best conditions. Each object has comprehensive equipment that corresponds to the latest trends. It's been a real hit lately. There is a set of modern furniture in a variety of styles , including very comfortable beds for real rest. The kitchens have full equipment, which includes a stove, fridge, dishwasher, kettle, microwave, washing machine, large table for about six people. The bathrooms usually have a shower, hair dryer and towels. The rooms are equipped with such qualities as: television, Internet (access to Google , Facebook ) , bedrooms and the mentioned own bathroom , or your own telephone, and even a garden . Stylish ik omfortowe and partament s have a balcony with a beautiful view of the mountains. Objects also have any additional facilities, ie .: the car, you can leave the seats at stops white in the underground car park, or take advantage of such opportunities, such as ski storage, wardrobe, etc. in the building. The separate sypialniom we can guarantee guests comfort and intimacy. Book your apartment now!
Tradition and modernity under one roof
The profile of tourists visiting Zakopane has been changing for years, and Poles are increasingly paying attention to comfort and convenience of rest. Apartments in Zakopane respond to this demand. These are luxurious accommodations that combine tradition and modernity. Beautifully finished, often decorated with highlander ornaments and located with a view of the Tatra Mountains , they meet the expectations of even the most demanding guests. Accommodation in this form is at the same time a unique comfort that allows for a perfect holiday. Good location is also an advantage for those who come to Zakopane with a view to mountain hiking. Accommodation in the apartments in the morning guarantees easy and quick access to tourist routes, and in the evening regeneration in excellent conditions. That is why apartments for rent in Zakopane are enjoying ever-growing interest and their popularity may soon beat traditional guesthouses. And all at a favorable price, which allows you to plan a vacation with the whole family or group of friends!
Visitzakopane.pl – Zakopane Apartments
Apartamenty Zakopane to doskonała propozycja dla osób, które chciałyby wypocząć w luksusowych warunkach, korzystając z uroków stolicy polskich gór. Oferujemy szeroki wybór apartamentów znajdujących się w centrum, bardzo blisko Krupówek!
Rozwiń